What is Odoo?

Odoo is an open-source business management suite (ERP), which covers the needs of the areas of: Accounting and Finance, Sales, HR, Purchasing, Projects, Warehouses, CRM, among others.
What is an ERP?
Enterprise Resource Planning (ERP) systems are managerial information systems that integrate and manage many of the businesses associated with production operations and distribution aspects of a company engaged in the production of goods or services.
Efficient Management.
Odoo offers a set of applications that form an easy-to-use toolbox for businesses; offering access to the software they need to run and expand the business. This family of applications works in such a way as to automate and track everything that is done in the company. It is a centralized ERP, online and accessible from anywhere and with any device.

What does Odoo offer as a business management system?
Integration: All Odoo applications work in an integrated way; there are no connectors between different applications as everything works smoothly within the same platform.

Modularity: allows adding or removing functionalities, with unified data and the same interface. No need to exit one application and connect to another. In addition to the "traditional" management applications, with Odoo it offers you the possibility of creating a web portal with a customer area, an intranet for the exchange of internal documentation, electronic commerce, and many other web functionalities, such as forums, events, surveys, etc.

Power: It has a system of roles and users, which allows its use on a large scale, limiting users to access only those areas relevant to their responsibilities. In addition to having a large database to store searches.

Intuitive interface: All the power of Odoo is offered under a friendly interface, which allows it to be used in a simple and intuitive way by all users, regardless of their role in the company; It also has several views for the same documents, such as the calendar view or the card view, which makes it even easier to use it in certain areas.

Flexibility: use flexible, dynamic and customizable workflows according to specific needs. It allows you to edit and modify workflows directly from the screen, in a graphical and intuitive way, thanks to its workflow generation system, creating customized reports by user or department.
Odoo Benefits
Connect its users: it has a social network that allows users to actively track certain documents, for example, track a budget in real time involving several departments, with comments and internal notes. In addition, to have internal messaging and a chat so that users who are connected can talk in real time.

Connects customers and suppliers: It also allows your customers or suppliers to view all their documentation and make comments on quotes, invoices or any documentation linked to their account.

No licensing costs: most of the Odoo code is available for free, and in no case are acquisition licenses paid by number of users or with annual renewals. You only pay for the costs of integration and adaptation to the needs of each company, and the service provider you choose.

Document management: Odoo allows you to manage all external documentation, such as images, documents or PDF files and attach them to any area. In addition, to easily retrieve said documentation from any linked area, for example, a file attached to an Odoo estimate, the estimate invoice or the client file.

Technically advanced system: Using a server-client scheme, which allows the server and database to be distributed, carrying out load balancing and high availability configurations.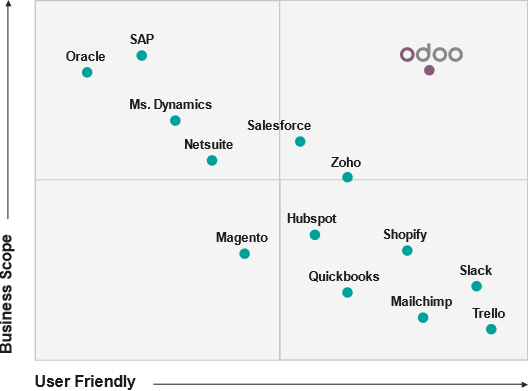 Smart Business
Odoo CRM is a unique system within the software world. It is one of the few free software developments that integrates with powerful business management systems (ERP) thanks to its extensive ecosystem.

This provides the added advantage of digitizing your company without the need for complex and expensive investments.
In addition, this CRM allows you: 
Track prospects froms start to finish.

Obtain  accurate sales forecast for management.

Optimize marketing, sales, and customer service processes.

Control the activity of each commercial. 

Schedule activities based on your sales strategies: calls, meetings, mailing lists and budgets.

Obtain all the necesary information from a prospect: website pages viewed, emails received, etc. 

Manage information in real time. 

Connect effectively with your customers.
This open-source CRM solution incorporates real-time messaging elements that facilitate connection with customers.
It is also possible to get an overview of what is happening in the sales and marketing team. At the same time, certain actions and strategies are redesigned according to the results.
It is important to note that the application is available in several languages:
English, Spanish, Arabic, Chinese (Simplified), Chinese (Traditional), Czech, Danish, Dutch, Finnish, French, German, Hebrew, Hungarian, Italian, Japanese, Korean, Norwegian, Polish, Portuguese, Russian, Swedish, Thai, Turkish.
With Odoo CRM, you will get more than just a customer management solution. You will get a gateway to the digitization of all your company's operations.
Plans, prices and conditions.
Plans for using Odoo as CRM boil down to the following options:
Open Source: Completely free when using its open-source download version.

Cloud version: from $ 6.00 USD per month per user. Includes free trial for 15 days.
For the Open-Source versions, it is possible to contract implementation plans to ensure a good deployment of the tool. These standardized plans start from an initial payment of € 2,100 for deployments of less than 50 users. Being necessary to hire a partner for implementations with a higher number of users.
If you are interested in purchasing this CRM, we invite you to contact us.